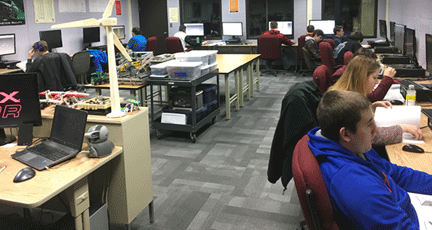 Drafting is a graphic language used by industry to communicate ideas and plans from the design/create stage through production. Drafters plan, prepare and interpret drawings and sketches. Materials, equipment and tools common to the Engineering, Architectural, and Graphic Design careers are used to teach skills.

Manufacturing is the process of taking a product from conception to marketing. Students are introduced to the design world by learning a 3D Cad system which will allow them to create drawings of the parts they will build. They will learn to use the machines in the manufacturing plants and processes needed to create the product. Emphasis through out the program will be on safety while in a shop environment.
---
Syllabus: Mechanical, Architectural, Engineering & Design Technology
---
Mechanical Drafting
Converting an abstract idea into a working design is the job of a technical drafter and tool designer. In this field, the drafter/designer may be involved in drawing one or many parts of a complete assembly, then design the tooling (jigs, fixtures, dies and molds) to produce one or all of those parts. The drafter/designer must be creative. Attention to detail is essential in the design of many products from agricultural equipment to rockets, food-processing machinery, to automotive aircraft assemblies and instrumentation. Students start off learning manual drafting skills, which is still vitally important in the drafting/design field.

Architectural Drafting
Students in this field learn the skills necessary to work as a para-professional in the offices of registered architects, engineers, interior designers, residential designers, and builders, assisting those offices with the preparation of drawn documentation, design work, research, and field work. Students in the Architectural program design and build a ¾ scale model home. Giving them both the theory and practical aspects of residential design.
Computer Aided Design (CAD)
A CAD operator is an integral part of all decisions made in developing a finished product. Responsibilities include graphically representing, either manually or electronically, the information received from an engineering designing work team. Engineering and consulting firms, the automotive industry, manufacturers of special machinery or architectural firms employs CAD operators.
Huron Area Technical Center utilizes Autodesk as its' main design software. Students are taught both 2-D and 3-D drawing.