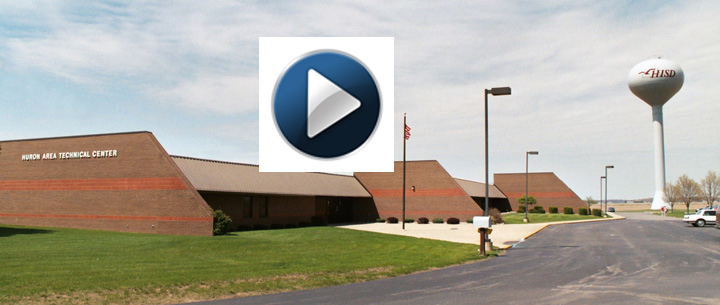 Huron Area Technical Center
1160 S. Van Dyke
Bad Axe, MI 48413
(989) 269-9284
(989) 269-2844 fax

Principal: Lane Walker (989) 269-3437
Assistant Principal: Theresa Hessling (989) 269-3442
The Huron Intermediate School District provides Career/Technical education opportunities for Bad Axe, Caseville, Harbor Beach, E.P.B.P. Laker, North Huron, Owendale-Gagetown, and Ubly School Districts. At the Huron Area Technical Center, residents of these districts can participate in Career/Technical programs and explore activities in preparation for employment or post-secondary education.
CTE Programs:
All career technical education programs follow the district's policies of nondiscrimination on the basis of race, color, religion, national origin or ancestry, gender, age, disability, height, weight, or marital status in its programs, activities and employment. In addition, arrangements can be made to ensure that the lack of English language skills is not a barrier to admission or participation.
Inquiries regarding Career/Technical Education can be directed to Lane Walker, Director of Career/Technical Education and HATC Principal, or phone 989-269-3437.
Inquiries regarding nondiscrimination policies should be directed to Joseph Murphy, Superintendent, or phone 989-269-6406.

Mission Statement
The Huron Area Technical Center accepts the challenge to provide each individual and business with access to career and technical education which meets the changing needs of our global society. We expect all learners to strive toward their highest potential and to become lifelong learners, thereby improving quality of life.