The Second Annual Thumb Area STEAM Showcase is Coming!
Saturday, May 13, 2017 10 a.m. - 3 p.m.
Bad Axe Middle School, 750 S. Van Dyke, Bad Axe, MI 48413!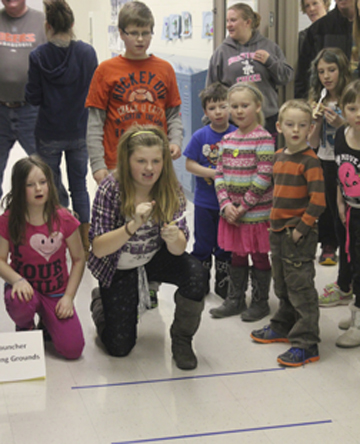 A community festival celebrating Science, Technology, Engineering, the Arts, and Mathematics

This year's Flyer and Event Schedule are coming soon!

Contacts:
Scott Whipple 989/269-3481 or 989/550-0003
Jennifer Trusock 989/269-3476
Tyler Leipprandt 989/269-3494
Vicky Erdman 989/269-6406

The STEAM Showcase features a variety of exciting "edutainment" activities for all ages and is FREE to the public.


School/Club Showcase
The Thumb Area STEAM Showcase is looking for projects/displays/presentations from local schools that showcase the excellent STEAM activities being done in districts across the county. Classroom teachers, leaders of projects or clubs, or any entity/group within a school (which is related to science, technology, engineering, the arts, or mathematics) can apply.
A $200.00 stipend/donation will be awarded to each approved application.
All projects, activities, presentations should be in some way connected to STEAM. Some examples might include:

First Robotics demonstration
Underwater ROV or IVD vehicles
Science Fair winner displays
Environmental/Science Club displays
Destination Imagination display
FFA projects/presentations/displays
Innovative Art Exhibits (Recyclables, Design/Engineering, Nature/Environment)
Industrial Arts designed and constructed projects
Media/Digital Art projects
Band and/or Performance Arts
Vendor Information
The STEAM Showcase welcomes vendors in the following areas:
Information about STEAM careers or STEAM education
Environmentally friendly products and services
Energy efficient products and services
Products and services that promote healthy living
Products that support the learning or using of science, technology, engineering, the arts, and mathematics
The Vendor's Application is coming soon.
Hosts
2017 Sponsors
In order to keep the Showcase free while providing high-quality exhibits, we offer leveled sponsorships:
Diamond - $20,000+
Platinum - $10,000 - $19,999

Gold - $5,000 - $9,999
Silver - $2,500 - $4,999
Bronze - $1,000 - $2,499
Copper - $500 - $999
Dow AgroSciences Harbor Beach Operations
Green - $1 - $499
Zwemmer Management, LLC

Call (989) 269-6406 or find out more information.
2016 Sponsors:
Diamond

$20,000+

Plantinum

$10,000 - $19,999

Gold
$5,000 - $9,999

Silver
$2,500 - $4,999
Bronze
$1,000 - $2,499
Copper
$500 - $999
Green
$1 - $499

Ordus Ford, Inc.